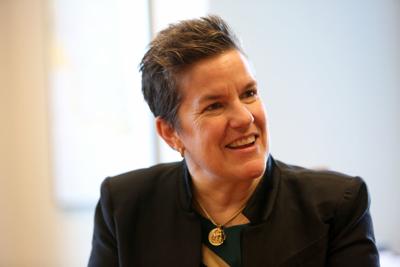 The new head of Wisconsin's job agency said keeping the organization in its current form is "really the way to go" in promoting economic development among businesses and communities throughout the state.
After spending four months on the job, Wisconsin Economic Development Corporation Secretary and CEO Missy Hughes said she "would advocate strongly for leaving the structure the way it is" at the agency — the entity Gov. Tony Evers at one point pledged to de-fund as a gubernatorial contender.
"When I interviewed with the governor, I asked him, 'Am I going to be the the CEO that's closing the doors?' and he said, 'Absolutely not,'" Hughes said of Evers.
The quasi-private agency, created under GOP Gov. Scott Walker, received much scrutiny on the campaign trail from Evers, who occasionally advocated for replacing it and at times called for de-funding it completely.
Evers has since seemed to back away from those comments, and his first budget proposal did not include a plan to dissolve the agency.
Hughes, in an interview at her Madison office Monday, said Evers was "committed to WEDC in its current form," as she called for the entity to "work with what we have" and leverage existing authority, resources and flexibility — "rather than spend a lot of time rewriting statutes and things like that" — to do its job.