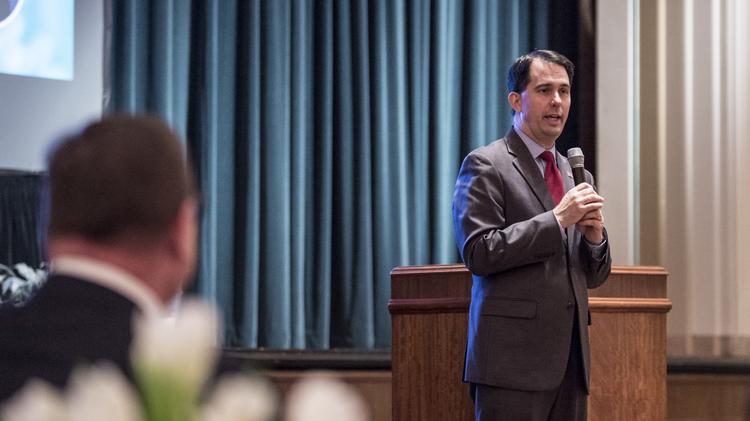 With the Milwaukee 7 celebrating its biggest year ever of attracting economic development, Democratic Milwaukee Mayor Tom Barrett and Republican Waukesha County Executive Paul Farrow shared an actual "Kumbaya" moment.
Barrett and Farrow are two of the co-chairs for the regional group that cooperates on recruiting new employers to the area and expansion by existing employers. They were on stage at the same time Monday evening during the M7's annual meeting at the We Energies auditorium in downtown Milwaukee.
First, Barrett said he was glad to see a turnaround by Farrow, who when he was elected Waukesha County executive, had reservations about the M7 as being too Milwaukee-centric. Barrett said the seven counties in the region have developed the ability to work together and pointed to the city of Milwaukee's recent agreement to supply water to the city of Waukesha.
"It shows what happens when people work with each other," Barrett said. "What we need to focus on and refocus on is how we can do what's best not only for our own communities but the entire region. Of course we want the jobs in our own city or our own county. But we also recognize that at the end of the day, we're better off having the jobs in Walworth County than in Walla Walla, Washington."
Barrett said the M7 has become very good at partnerships and then introduced "my colleague, Paul Farrow."
Farrow, who is a good half-foot shorter than Barrett then took the microphone and only half-jokingly said: "We see eye to eye on a lot of things and we see eye to eye on a lot of situations that are going on in this region."
What's going on is excitement, especially after the M7 worked closely with the Wisconsin Economic Development Corp. in recruiting Foxconn Technology Group's planned massive complex in Racine County community Mount Pleasant, Farrow said.
Read the full article here.