Matthew Salzer started building his software business while he was still building his family. He never had any doubt which came first.
"I'm a family guy," said Salzer, the architect and co-founder of Socialeads Inc., Milwaukee. "Meeting some semi-arbitrary deadline (while) neglecting my family — that's never going to happen."
But while his priorities were clear, striking that work-life balance came with some challenges for Salzer, 29. As he was moving up through the software development ranks, his son was born with cystic fibrosis. His daughter was only 1 when he launched his own consulting practice.
Salzer said he and his wife, Charity, were able to "really tackle" the complexities of their son's disability because they could "lean on each other."
That's the same collaborative approach that Salzer brings to his current job, said Craig Schedler, venture partner with Northwestern Mutual Future Ventures. "He's the exact type of person we want to partner with," Schedler said. "He's got the right leadership qualities to build a successful team, and he's definitely got the right technical background."
The problems that intrigued Salzer were "referral friction" — overcoming the tensions in finding new clients — and maximizing sales representatives' market potential through social media. "Just getting a cold-call list" and trying to convince strangers to buy financial services is "very painful," Salzer said.
Socialeads aims to solve that problem by using artificial intelligence to comb a financial representative's social media networks and recognize "social speech" patterns that can translate into sales leads, Salzer said. For example, contacts posting about getting married or having children could be prospects for financial products tailored to their needs, Schedler said.
While some uses of social media have raised privacy concerns, Salzer and Schedler stressed that Socialeads and Northwestern Mutual, its first client, are committed to respecting privacy. Facebook friends are off-limits for Socialeads because of restrictions the social media giant imposed after recent controversies, Salzer said.
"These are people you know, not just stalking random people on the Internet," Salzer said. "We play by the rules."
Northwestern Mutual is testing the Socialeads platform in a few offices, and "early indications are that it's showing results," Schedler said.
EARNING SEED MONEY
The January 2018 reverse pitch victory brought Salzer and Hitchcock $75,000 in seed money and work space in Northwestern Mutual's Cream City Labs. The larger corporation's Cream City Venture Capital Fund followed up by joining Winnebago Seed Fund and Brightstar Wisconsin Foundation in Socialeads' $750,000 initial funding round.
That's not bad for a company whose co-founder taught himself about computers and started his career with a two-year college degree.
"I always had a fascination with computer programming," Salzer said. "Some people like to know how things work. For me, that was software."
When Salzer was a student, he said, Greendale High School didn't offer computer science courses (although it does now), so he learned by checking out library books and talking to knowledgeable people.
Salzer's first formal technology training came at Milwaukee Area Technical College, where he earned an associate's degree in computer science in 2009. After that, he said, "I decided to just go for it," and enter the job market as a software developer.
Over the next six years, Salzer moved up through a series of increasingly responsible software development positions at local companies — first at Red Arrow Labs in Milwaukee, then at Brookfield's Centare and finally at SafeNet in Milwaukee — before striking out on his own.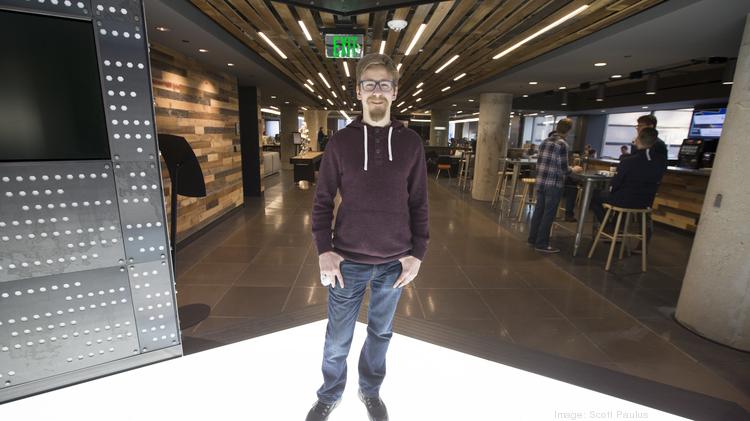 Although his first business, Salzer Software Inc., is still operating, Salzer said his time as a software engineer, solutions architect and consultant left him wanting more.
"I wanted to build something for my own, rather than just build other people's stuff" for the rest of his career, Salzer said.
That was why the September 2017 announcement of Northwestern Mutual's reverse-pitch event caught Salzer's attention. He attended the program's initial phase, where executives outlined the problems to be addressed, during Milwaukee Startup Week that November.
At a happy hour afterward, Salzer met Hitchcock, a Shorewood native and University of Wisconsin-Madison graduate then living in the Los Angeles area. The two met for coffee the next day and sketched out the idea behind Socialeads.
If its platform works for Northwestern Mutual, Socialeads hopes to expand throughout the financial services sector, with likely applications in real estate and insurance as well as investment advice. Schedler and Startup Milwaukee president Matt Cordio agreed Socialeads has strong growth potential.
Salzer said he appreciates the opportunity to build his business in his hometown.
"It's kind of fun to be in the Milwaukee tech ecosystem right now," he said. "Here we can make a big impact."
MATTHEW SALZER
Title: Architect and co-founder
Company: Socialeads Inc.
Education: Associate's degree in computer science, Milwaukee Area Technical College
Family: Wife, Charity, and two children: a son, 5, and daughter, 4
Hometown: Milwaukee; grew up in Greendale
Resides: Pewaukee
Age: 29
Best decision: "Marrying Charity," a California native, in 2012
Favorite sport: Basketball: "I'm hoping to go to some Bucks playoff games." (He also plays in pickup games himself.)
Favorite local places: Milwaukee's downtown, 3rd Ward and lakefront; Waukesha County's Lake Country; and Holy Hill in Washington County
Favorite local restaurant: Rare Steakhouse