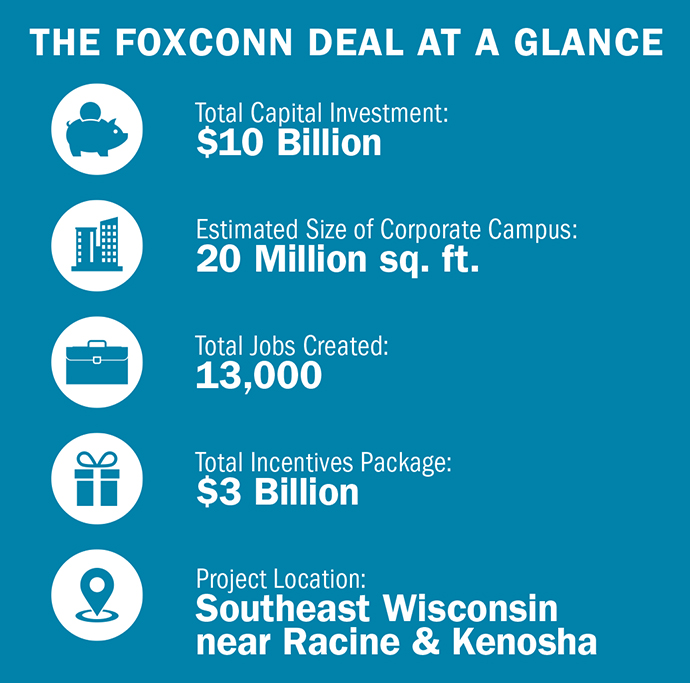 Remember the big one that got away? Wisconsin doesn't.
Landing the largest capital investment in state history has a way of erasing bad memories. In Wisconsin's case, winning a $10-billion investment in a 20-million-sq.-ft. (1.8-million-sq.-m.)advanced electronics manufacturing complex from Taiwan-based Foxconn not only eclipses any other economic development deal in the Badger State's past; it offers the potential to rewrite the state's future.
"The eagle has landed, it has spread its wings, and it is taking off again," Wisconsin Gov. Scott Walker said at the ceremony announcing the game-changing Foxconn investment at the famed Milwaukee Art Museum on the shores of Lake Michigan.
Designed by legendary architects Eero Saarinen, David Kahler and Santiago Calatrava, the Art Museum served as the perfect backdrop for the project announcement. The 8K liquid crystal display TV screens that will be assembled at the new Foxconn factories in Southeast Wisconsin will represent the latest technology in high-end electronics, and they will require the advanced skills of technically trained workers — 13,000 of them — when it opens in 2020.
When $136-billion Hon Hai Precision Industry Co. Ltd. (Foxconn) announced on July 26 that it would place its first-ever large-scale plant investment in North America in the Upper Midwest, it marked a sea change for a firm that employs 1.3 million workers worldwide. A company that made its fortune assembling Apple iPhones and other high-end electronic devices, mostly in low-wage locations in East Asia, was broadcasting to the world that it would now manufacture super-high-definition, 5G-wireless TV monitors in the United States.
How this project came about, and what it means for the future of Wisconsin and the Upper Midwest, is a story of high-stakes negotiations and deal-making that brought a lot of players to the table and resulted in one grand-prize winner: Wisconsin.
The big "W" — as in "win" — for Wisconsin is the story of seven other "Ws" — Walker, Washington, the Wisconsin Economic Development Corp., water, workforce, the Wisconsin Energy Corp., and the Wisconsin education system. Read the full story here.