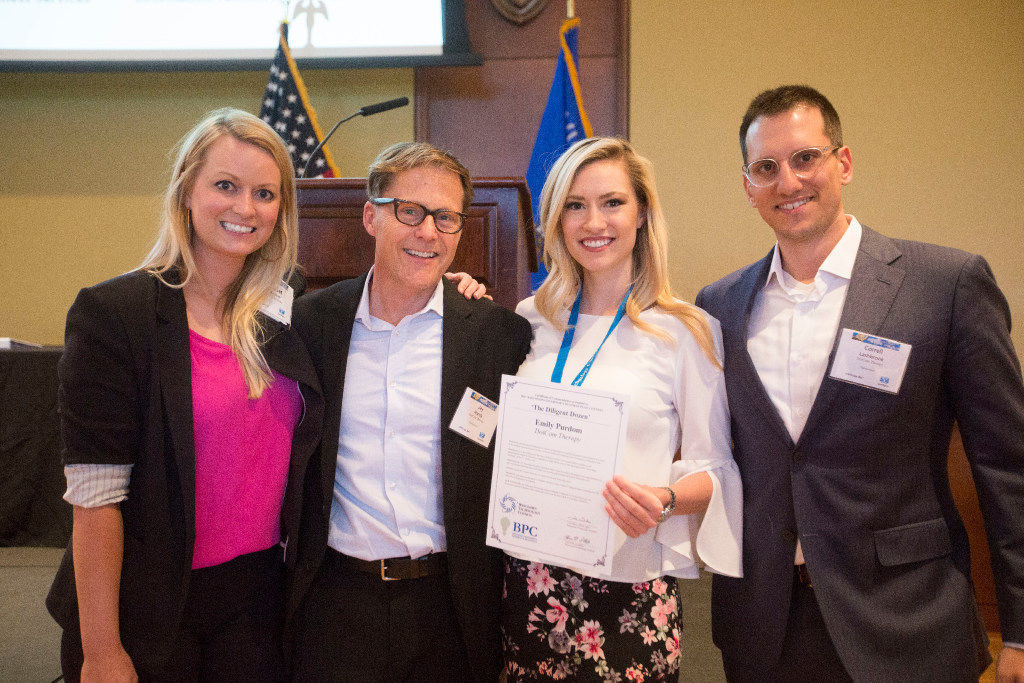 DotCom Therapy's leadership, seen above showing off the accolades they won at the recent 2017  Governor's Business Plan Contest, includes speech pathologist and co-founder Rachel Robinson; CEO Jay Hardy; co-founder Emily Purdom; and COO Correll Lashbrook.
Emily Purdom remembers crawling out of bed at 5 a.m. the first time she tried out the technology that would become her life's focus. The Missouri-based children's speech-language pathologist had an early-morning appointment with a new patient.
The catch? The patient was in Thailand. The session would take place through an online video platform.
"I knew that 'telepractice' was an emerging model at the time," said Purdom. "But I didn't know much beyond that."
The intercontinental therapy session left an impression on Purdom: She was able to have meaningful face-to-face interactions with a family and child in need, despite being thousands of miles apart. It was an experience that planted the seeds of DotCom Therapy, the tech company she founded with fellow speech therapist Rachel Robinson.
The Madison-based startup has built a web-based videoconferencing platform, like Skype, specifically for linking professionals to schools that need speech therapists, occupational therapists and mental health specialists, helping children with speech, play, motor skills, emotional health, mental health, or other developmental issues.
DotCom Therapy only recently moved to Madison from Springfield, Missouri, but has quickly made a name for itself: Earlier this month, it received a first-place award among IT companies in the Governor's Business Plan competition.
Read the full story here.