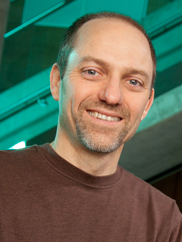 A Madison-based startup called Flambeau Diagnostics is seeking FDA approval for a mobile testing platform that could expand access to rapid viral testing services.
"We're really thinking about it as a pandemic preparedness model," said David Beebe, the company's chief science officer and a biomedical engineering professor at UW-Madison.
The company was launched about a year ago after being awarded a $12 million contract through the National Institutes of Health Rapid Acceleration of Diagnostics initiative. While Operation Warp Speed had a major component focused on COVID-19 vaccines, a portion of funding was allocated to companies developing diagnostic technologies.
Flambeau Diagnostics was one of just 25 companies selected out of 716 applicants for the $500 million effort. Beebe (pictured here) says the startup was one of the "smallest and earliest-stage" companies that received a significant contract.
In a recent interview, he explained the technology enabling high-throughput rapid testing in a mobile laboratory setting was created through another company he co-founded called Salus Discovery. That business emerged from research conducted in his lab at UW-Madison.