Two state lawmakers say pending federal legislation would accelerate efforts in Wisconsin to develop modern infrastructure such as electric vehicle charging stations and broadband internet, while creating thousands of new jobs in the state.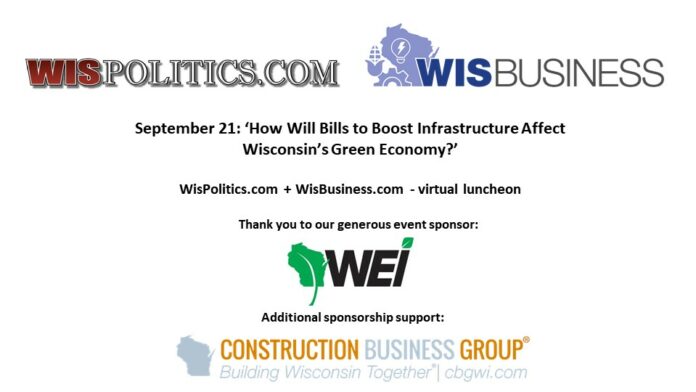 But a lack of Democratic unity among federal lawmakers and GOP opposition to the high cost of the bills could put the efforts in jeopardy. That's according to Lou Jacobson, a veteran D.C. journalist who joined a Biden administration official and state lawmakers for a virtual luncheon today hosted by WisPolitics.com and WisBusiness.com.
"It's basically a real cluster right now," Jacobson said. "You have these two bills: the bipartisan infrastructure bill and the reconciliation bill, which has some of the softer sorts of infrastructure in it, but at the same time you also have spending set to run out in a couple days, and you also have the debt ceiling, which is going to lapse very soon."
The bipartisan infrastructure bill was passed by the U.S. Senate and is awaiting a vote in the House, while President Biden's "Build Back Better" agenda is being advanced through the reconciliation process. David Kieve, director of public engagement for the White House Council on Environmental Quality, said the approximately $1 trillion infrastructure bill would include $312 billion for infrastructure and estimated Wisconsin would get about $20 billion from those funds.
Meanwhile, the bill moving through reconciliation could contain as much as $3.5 trillion, Kieve said, though the total for that legislation hasn't been finalized yet.
"What's really clear is that the policy proposals put forward in the bipartisan infrastructure plan and the reconciliation bill are very popular in Wisconsin," said Rep. Greta Neubauer, D-Racine. "I hear about the need for good jobs in this community, I hear about the need for infrastructure investment."
Neubauer, a member of the state Legislature's Joint Finance Committee, says Wisconsinites "both want and need" the full reconciliation bill to pass. She said the larger bill would create an estimated 266,000 jobs in the state through infrastructure investments.
Sen. Robert Cowles, R-Green Bay, highlighted efforts by lawmakers in Wisconsin to invest state funds into a charging network for electric vehicles. He touched on a proposed bill that would put $10 million from the state's allocation of the Volkswagen settlement fund into this effort, but said that process would proceed more slowly without additional federal funding.
"I do believe electric cars are the thing. It's happening, the question is how fast does it happen and does our state keep up with other states that are moving forward?" said Cowles, who chairs the Senate Natural Resources and Energy Committee and is vice-chair of the Senate Transportation and Local Government Committee.
Cowles also said efforts to eliminate lead from drinking water in the state would benefit from more federal funding in the infrastructure bills. Still, he said he's concerned about how the funding is rolled out and whether it's spent in an effective way.
"Absolutely I'm worried about it," he said. "Would I like to see some more money to help put this lead issue behind us? I would. And I'm sure that in a bipartisan way most legislators would feel that way."
If the bills are passed, Neubauer noted the timeline for implementation is over several years, and stressed the need for "urgency around these issues, particularly around climate change and inequities in the state." She said the rollout of funds "is not a concern for me," though she pointed to "nuances and complications" around how the funding is distributed in the state.
She said the "Build Back Better" agenda would replace 100 percent of lead pipes in Wisconsin and around the country and would expand broadband to everyone in the state.
"There's no excuse for Wisconsinites to be turning on their tap and worry about the impacts that drinking water could have on their kids, families, future children," she said. "There's no excuse for kids in rural areas or small businesses to be unable to do their homework or pay their bills because they don't have access to high-speed internet."
Although the infrastructure bill passed the U.S. Senate with bipartisan support, Jacobson said it's now "procedurally" in danger in the House because more progressive Dem lawmakers "don't want to just sort of see that pass because then they will lose their leverage."
Over the next 10 days or so, he said that progressives will be weighing that risk with the political fallout of not passing anything at all.
"It's very, very dicey. As I said, it's a game of chicken," he said. "It's going to take a while until they get to the point where they really think, this is finally the point where we have to move."
While some critics of the large infrastructure packages say the dollar amount is too high, Kieve highlighted the cost of climate change impacts as the alternative.
"It certainly does sound like a lot of money to you, and to me and to everybody else, but the question that I ask myself every day as somebody who's focused on climate is, 'Can we afford to wait?' And the answer we're saying is no," he said. He added the cost of recovering from extreme weather events linked to climate change in 2020 has been estimated at about $99 billion.
Both of the state lawmakers agreed that the state's economy is transitioning to be more sustainable and that legislation at the state and federal level needs to support that.
"The reality is, our economy is transitioning," Neubauer said. "Our utilities are closing coal plants, our major car manufacturers are moving towards electric vehicles. We need to recognize that this transition is happening, and I think folks here in Wisconsin do see that."
Cowles also pointed to actions that utilities and residents in Wisconsin are taking to advance the "green economy," such as solar development.
"Utilities, businesses, citizens — it's happening," he said. "If the feds give us more money, which we would hope is done efficiently, again, it'll go faster. So I'm hoping that whatever happens out there, I hope the Legislature's involved in this and it's not just all the governor deciding, like the ARPA package."
Watch a video of the virtual event: https://www.youtube.com/watch?v=HVCac4VRfMU