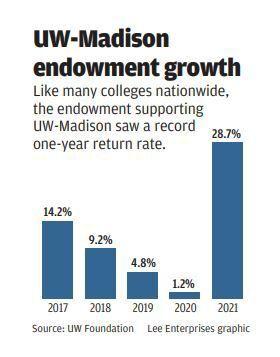 UW-Madison
's endowment grew 28.7% in the most recent fiscal year, joining a number of colleges across the country reporting record returns because of the soaring stock market.
The one-year return rate for the year ending June 30 brought the total endowment to an all-time high market value of $3.98 billion, UW Foundation spokesperson Tod Pritchard said. Past one-year returns over the previous four years have ranged from 1.2% to 14.2%.
The UW Foundation hasn't historically highlighted return rates beyond including them in annual reports, but officials provided data ahead of publishing their fiscal year 2021 report at the Wisconsin State Journal's request.
Large universities and highly ranked colleges nationwide are celebrating record-setting endowment gains in recent weeks, according to news releases and media reports. The University of Minnesota's endowment gained 49%, the University of Michigan's endowment grew 41% and University of Illinois posted a 34% return. Massachusetts Institute of Technology and Duke University both reported a 56% gain in the past year and Harvard University saw a 34% rise.
UW-Madison's endowment gain trails slightly behind some of its peer universities, which UW Foundation president and CEO Mike Knetter attributed to having a lower tolerance for risk in its investments compared to some other schools. That means the endowment experiences a little less upside when the market is up and a little less downside when the market is down.
"A year like we just had is a great tailwind," he said. "But we're really long-term investors."